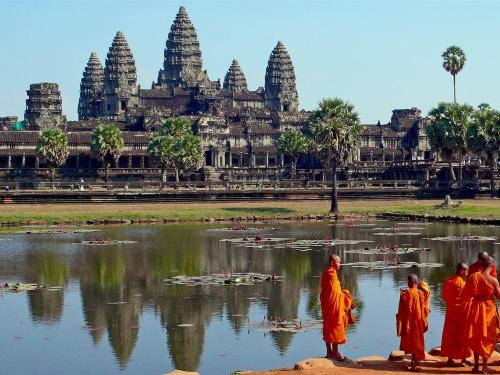 Angkor Wat Temple Cambodia's ancient temple city is one of the wonders of the oriental world. Masterpieces of decorative details as well as of architectural style, its awe-inspiring ruins survive as testament to the spectacular achievements of Southeast Asia's great est civilization. It is a replica of the universe according to the Hindu mythology.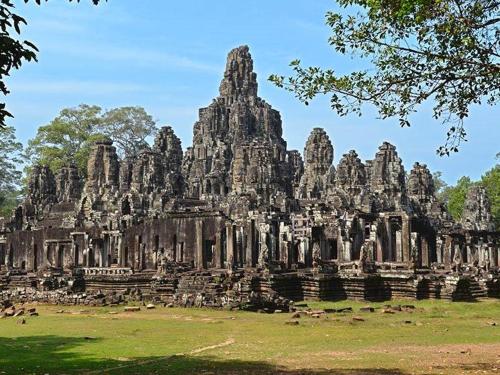 Bayon Temple is one of the most impressive and mysterious temples emerging from the jungle as an incredible forest of heads and is considered to be an architectural masterpiece. The apparent chaos of its dark rooms and interconnected galleries are crowned with lotus flowers, symbol of enlightenment, and are dominated by 200 gigantic stone faces facing N, S, E and W on 51 smaller towers. The facial features are striking and the full lips, curling upwards at the corners, are known as 'the smile of Angkor'.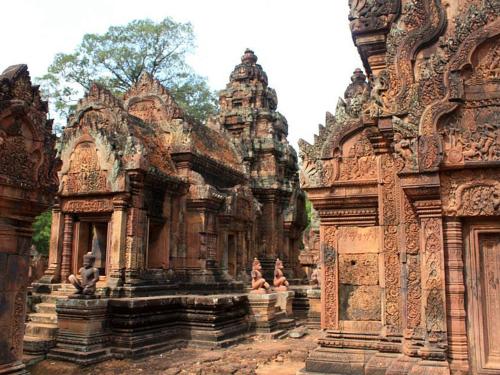 Banteay Srei temple this is the fabled pink temple of women, so called because it is made of pink sandstone and considered a tribute to the beauty of women. Its small size, delicate carvings and remarkable state of preservation make Banteay Srei one of everyone's favorite temples. Its Apsara and male and female divinities represent the most skilled craftsmanship of sand stone carvings. Banteay Srei is located about 25 kilometers north of Angkor. It was dedicate in 987, making it one of the oldest temples in the region, though it was not rediscovered until the 1900s.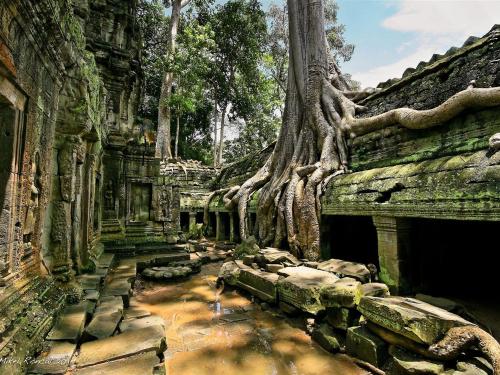 Ta Prohm is one of the most beautiful and a famous temple in the area, as it has been (almost) untouched since it was discovered and retains much of its mystery. For all would-be Mouhots and closet Indiana Jones, Ta Prohm is the perfect lost-temple-in-the-jungle: Strangler figs and kapok trees entwine themselves around the ruins of Ta Prohm. Their roots burst apart even the thickest of walls, yet their clinging embrace prevents the walls' collapse.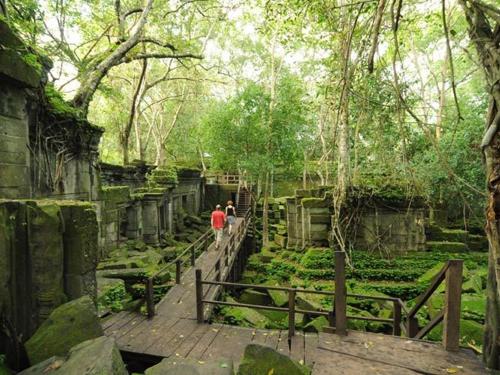 Beng Mealea is a spectacular sight to behold. It is one of the most mysterious temples at Angkor, as nature has well and truly run riot. Built in 12th century under Suryavarman II (1112- 1152), to the same floor-plan as Angkor Wat, Beng Mealea is enclosed by a massive moat measuring 1.2km by 900m, much of which has dried up today. The temple is at the centre of an ancient Angkorian road connecting Angkor Thom and Preah Khan in Preah Vihear Province.